Dec. 20, 2013 7:11 pm PST



SCOTCH WICHMANN PERFORMS IN SAN FRANCISCO'S "100 PERFORMANCES FOR THE HOLE"
Performance artist Scotch Wichmann was selected to perform at precisely 11:34PM on January 4th at '100 PERFORMANCES FOR THE HOLE', a show at SOMArts in San Francisco that featured 100 consecutive performers who each performed a 4-minute piece. Info available here.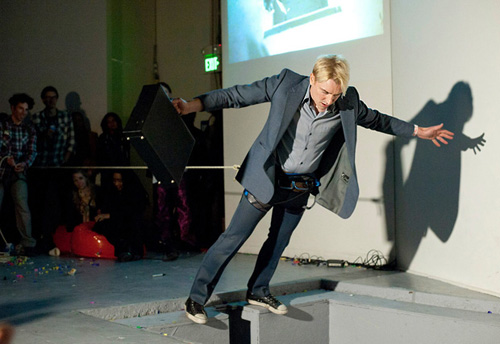 Dec. 3, 2013 9:26 am PST



AUTHOR UNVEILS NEW PIECE IN PERFORMANCE ART SHOW
Scotch Wichmann will perform ECHO, a new work about anticipation and the unconscious, at the popular 5x5x5 performance art show in downtown Ventura, CA this Friday. Seminal performance artist and painter John M. White will also perform, and each attendee will receive a free TWO PERFORMANCE ARTISTS bookmark designed by Scotch. Dec. 6 at 8PM. Free admission. Sylvia White Gallery, 1783 East Main Street, Ventura. Details here.
 
Nov. 8, 2013 5:14 pm PST



BOOK TRAILER FOR 'TWO PERFORMANCE ARTISTS' RELEASED
The video trailer for TWO PERFORMANCE ARTISTS is finally here! Directed by the author Scotch Wichmann, it'll give you a small taste of the strange & wonderful things to come. Click here to watch it on YouTube.
 
Jul. 7, 2013 9:13 am PDT

FREAKSHOW BOOKS ANNOUNCES 'TWO PERFORMANCE ARTISTS'
We just signed Scotch Wichmann's debut Two Performance Artists Kidnap a Man and Do Things With Him, a madcap caper about two wild San Francisco performers who try to turn their billionaire boss into a performance artist. The book was an Amazon Breakthrough Novel Contest first-round finalist, and will be published in Spring, 2014.  Learn more here.
 
Dec. 14, 2012 1:05 pm PDT



FREAKSHOW BOOKS OPENS ITS DOORS
Bring on the weirdos, wackos, and wonders because Freakshow Books is open for business! Stay tuned for our first book title announcement!